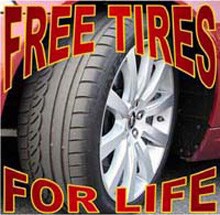 Interested in our Free Tires for Life Program? We bet you are! Included in every new and pre-owned vehicle purchased at any Bertera dealership we include our famous

Tires for Life Program

as an added benefit of doing business. Here's how it works: We purchase a Tires for Life policy on your behalf through a company called Pro-Tech. You perform all of your normally scheduled maintenance here at the dealership. For example, your oil must be changed every 3,000 miles and tires rotated every 6,000 miles. Our service technicians will inspect the tires, record the service performed and the tread depth of the tires, and must report that information to Pro Tech when you are ready for new tires. When your tires wear out, we will apply to Pro Tech for tire reimbursement on your behalf. When the claim is approved, the tires will be replaced with the same brand you currently own?FOREVER! It?s that easy?and the best part is our value pricing. Be sure to contact the service department where you bought your vehicle to schedule your regular vehicle maintenance and take advantage of this program for as long as you own your car. It?s just another example of why Bertera Auto Group is your source for original outlet pricing, service, and savings.